---
Tarot Blog
Posted by Will Roya on
  Many spiritualists love working with common tools such as tarot cards and oracle cards to connect with their intuition more clearly. With the popularity of tarot cards, it's common for artists to create their own tarot card deck. This may be for a more personalized experience or to help share their knowledge and insights with individuals who love their art style. Shuffled Ink Some artists or designers may ask, "I created the artwork and designed each card, now how do I print my own custom tarot cards?" That is where Shuffled Ink comes in! Shuffled Ink is a family-owned...
---
Posted by Will Roya on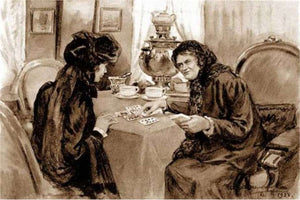 Guest post courtesy of abctarot.com Need a deck of cards, visit our companion site: playingcarddecks.com We usually associate fortune telling with dedicated decks of cards, like tarot, Kipper, Lenormand or Sybilla. Of course, each of these fortune telling decks are great tools for divination. But you can also use a standard deck of playing cards for fortune telling. In fact, you'll find out that it can be easy to use a regular deck of playing cards for divination. We'll talk about a few tips and tricks so you can read playing cards like a divination pro. The suits and the elements The...
---
Posted by John Taylor on
(Above is the general timeline of the Pagan Calendar)   The Pagan Calendar, or The Wheel of the Year, marks many of the seasonal festivals celebrated by pagans around the world. The calendar also tracks the lunar cycle, paying particular interest to the year's full moons. The original sources for the calendar are largely eclectic, drawing from folk traditions, druidism, British paganism, and Wicca. The modern pagan calendar was adopted by Gerald Gardner and Ross Nichols in the 1950's in order to celebrate and codify as many pagan holidays as possible. Gardner and Nichols divided the year into eight seasonal...